Schedule, Classes and ZOOM link
AUGUST 8 – 14
Monday Led Primary Series 7 am

Tuesday Mysore 6:30 -9 am

Wednesday  Mysore 6:30 -9 am

Thursday MOON DAY CLOSED

Friday OPEN PRACTICE 6:30 – 9 am

Saturday OPEN PRACTICE 8 am

AUGUST 15 – 21

Monday OPEN PRACTICE 7 – 9 am

Tuesday  OPEN PRACTICE 6:30 -9 am

Wednesday   OPEN PRACTICE 6:30 -9 am

Thursday Mysore 6:30 –  am

Yoga Therapy Lab 6 pm

Friday Mysore 6:30 – 9 am

Saturday Led Primary Series 8 am

We are allowing Fully Vaccinated students to practice at the Bandha Room.
Please contact Vivian (2scarabs@gmail.com) if you don't have the current door code

ZOOM ADDRESS
883 578 6298
The link:
Zoom now requires a password, please contact Vivian @ 2scarabs@gmail.com if you don't have it. We will use the same code for all classes until further notice.
You may talk amongst yourselves before/after class but you will be muted during the class so the teacher can be heard clearly. You may have your camera off or on to your comfort. If we don't recognize you or your device we may ask you to 'flash' us or privately let us know your identity.
Namaste
A & V
Mysore

The traditional style practiced in Mysore, India. With individualized instruction and adjustments, students achieve a meditative flow at their own pace. Sharing the room with yogis of all levels allows students to give and receive inspiration and energy. Students of all skill levels and experience are welcome.
Doors open at 6 am, newer students advised to start at 7.  Students may begin their practice on their own prior to 8am, but must complete it by the scheduled class end time.
Led Primary Series
A flowing presentation of the Full Primary Series. Verbal and physical guidance are offered without interrupting the rhythm of the practice. Newer students often modify postures. Some experience is helpful but not required.
Ashtanga Yoga Foundations

A guided version of the first half of the Primary Series focusing on the fundamentals. Ideal for beginners or experienced students seeking a more instructional class.

Yoga Therapy Lab 
This class is focused on the therapeutic aspects of yoga asana. Each week a different exploration is featured.  The work may seem subtle, but the effects are profound.  Ideal for students who cannot practice regular Ashtanga yoga or as a therapeutic supplement to an existing practice.
---
Led Half-Primary Series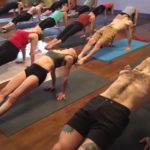 This class features a flowing, guided experience of the foundations of the Ashtanga practice  featuring about half of the seated asana and includes all of the standing and closing postures.
*************************************************************************************************
Vivian is also available for 60 and 90 minute private lessons.
************************************************************************************************
PRICES
$1500 Yearly Pass       Annual Club Membership in the morning Mysore program.
$150  Monthly Pass     Payment is due every Month on the 1st or 15th, and is considered to be Club Membership. Extensions by permission only.
$130  10-Class Card     We keep the card, must use within 3 months
$18      Drop-in              Good for any regular class
We offer custom passes & cards for out of town Yogis.
No partial payments. Please pay in full for cards and passes on the first day of use.
CASH, Checks or CashAPP $2scarabs   NO credit cards.
*************************************************************************************************