Classes
Mysore

The traditional style practiced in Mysore, India. With individualized instruction and adjustments, students achieve a meditative flow at their own pace. Sharing the room with yogis of all levels allows students to give and receive inspiration and energy. Students of all skill levels and experience are welcome.
Students may begin their practice in their own time prior to 7:30, but must complete it by the scheduled class end time.
Schedule: Monday-Friday (doors 5:45) 6 am – 9 am

Led Primary Series
A flowing presentation of the Full Primary Series. Verbal and physical guidance are offered without interrupting the rhythm of the practice. Newer students often modify postures. Some experience is helpful but not required.
Schedule: Saturday  8 am-10 am

Ashtanga Basics

A guided version of the first half of the Primary Series focusing on the fundamentals. Ideal for beginners or experienced students seeking a more instructional class.
Schedule:  Monday 5:30 pm -6:45 pm  *cancelled for Summer

Yoga Therapy Lab 
This class is focused on the therapeutic aspects of yoga asana. Each week a different exploration is featured.  The work may seem subtle, but the effects are profound.  Ideal for students who cannot practice regular ashtanga yoga or as a therapeutic supplement to an existing practice.
Schedule: Thursday  5:30 pm – 6:30 pm  *cancelled for Summer

---
Led Half-Primary Series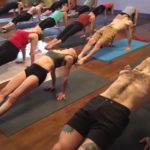 This class features a flowing, guided experience of the first half of Primary Series' seated asana, plus the full standing and closing sequences. This energetic class is great for students working through the foundations of their Ashtanga practice and for those needing a later start on Saturdays.
Schedule: Saturday 10:30 am – Noon  *cancelled for Summer

---